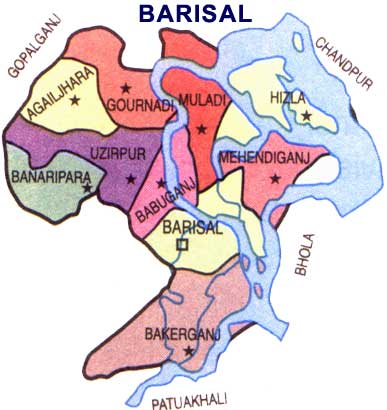 Barisal is one of the major cities in Bangladesh. It is originally 142 km away from the capital "Dhaka" but 373 km away by road from Dhaka. It is an old river-port on the river "Kirtankhola", on the northern shore of the Bay of Bengal in southern Bangladesh. Barisal is one of the oldest municipalities in Bangladesh, which was established in 1876. It was turned into a City Corporation on 25th July 2002. Previously, Barisal was the headquarters of Greater Barisal district. Later the Greater Barisal district was broken down into six district-Barisal, Jhalokati, Pirojpur, Bhola, Barguna and Patuakhali.
Barisal district with an area of 2790 square-km is bounded by Madaripur, Shariatpur, Chandpur districts on the north, Patuakhali, Barguna and Jhalokati districts on the south, Bhola and Lakshmipur districts on the east, Jhalokati, Pirojpur and Gopalganj districts on the west. Barisal City Corporation area is around 58 square-km.
Barisal has many renowned educational institutions. Govt. Brojomohan College (B. M. College) is the oldest institution of higher education in the city, founded in 1889. There is a government medical college "Sher-e-Bangla Medical College" (SBMC), a public university "University of Barisal" and a textile engineering college "Shahid Abdur Rab Serniabat Textile Engineering College" and a cadet college "Barisal Cadet College". Besides these there are 3 teacher's training college, 1 Govt. Polytechnic Institute, 1 Homeopathic College and 1 social welfare training centre.
Tourist attractions:
There are lot of historical place and tourist spot around the city. They are-
Durgasagar Dighi
Baitul Aman Jame Masjid Complex (Gurhia Mosque)
Oxford Mission Church
Bell's Park aka Bangubandhu Udyan
Planet World
Muktijoddha Park
30 Godown
Narikel Bagan & Horticulture (Agriculture Training Institute)
Lakhutia Zamindar Bari
Korapur Miah Bari Masjid
Shankar Math
Aswani Kumar Town Hall
Aroj Ali Matubbor Library
Sher-e-Bangla Museum (Chakhar)
Goila Ma Monosha Temple
Bir Sreshtho Captain Mohiuddin Jahangir Library and Museum
Jibananda Das Museum
Kali Mandir founded by the Poet Mukunda Das
Bibir Pukur
Padma Pukur (Pond of Lotus)
BadhyaBhumi Monument
Bangladesh Rice Research Institute regional centre